Ever pulled out a mirror and looked under your tongue? If so, you probably noticed a small bit of tissue connecting it to the floor of your mouth. That's the lingual frenulum, one of many soft structures that make up your facial physiology. This tissue keeps the tongue in place and prevents it from moving around too much, which just happens to be one of the most important jobs in your mouth!
Too much tongue movement would be awkward, but too little can be harmful to your health. The latter condition is called ankyloglossia, tethered oral tissues (TOT) or more commonly just as tongue-tie, and it's the result of a short, thick or unusually rigid lingual frenulum. The tongue is quite literally "tied down", leading to a host of irritating health problems, some of which may surprise you.
Importance of the Tongue
Surely a wiggly little thing like the tongue can't be that important to our health, right? Think about it this way: what are the three main things we need to stay alive? Air, water, and food. We take a breath every couple of seconds, we drink water 8-10 times a day, and we chew food dozens of times per meal. What do all of those processes have in common? The tongue, of course!
The tongue is the CEO of our body. Like a human CEO with a thriving business, the tongue guides every important action we make. When we breathe, especially laying down at night, the tongue plays its role. We can't even chew or swallow our food without the tongue doing its thing! Considering that we swallow approximately 600 times per day, the tongue has a powerful influence over the muscles in our face as well as the positioning of our teeth. And here we thought it was only good for licking ice cream cones!
Symptoms Resulting from Tongue-Tie
Tongue-tie most frequently presents at birth. It's slightly more common in boys than in girls, and it can run in families, too. No one is exactly sure why it develops, but we do have reliable ways to diagnose and treat it, especially in the field of orofacial myofunctional therapy by a trained and certified therapist.
Early visual signs for tongue-tie include a heart-shaped tongue, difficulty touching the tongue to the roof of the mouth, and an inability to stick the tongue out past the lower front teeth. Health symptoms can be different from person to person, but for infants and children they usually include the following:
Difficulty latching during breastfeeding
Speech impediments like lisping or slurring
Breathing difficulties, especially while sleeping
Weak facial muscle development, leading to a sunken chin
Deeper Complications Due to Tongue-Tie
Do you have inexplicable neck pain, shoulder pain, or headaches? How about constant mind fog or sleep apnea? Those could be related to tethered oral tissues, believe it or not! Adults who live their entire lives with tongue-tie can run into more severe symptoms than children, all thanks to the relentless march of time.
Sleep apnea is one of the more damaging results of long-term tongue-tie. The tip of the tongue is supposed to rest against the hard palate, that bit of sturdy bone and skin just behind your top front teeth. The tongue's natural rest position also has the important effect of expanding the bones of the palate called the maxillae, forming a graceful U-shaped arch which is critical for keeping your teeth in line.
With tongue tie, the tongue cannot reach its resting position against the palate because it's tied to the floor of the mouth (hence the name). The lack of pressure morphs that U shape into a V, paving the way for misaligned and erupting teeth. Additionally, the tongue will sit overall lower and further back in the mouth. This gets worse when you lay down to sleep, obstructing the airway and causing that loud snoring sound we all hate to hear.
Poor oral hygiene, including gingivitis, severe tooth decay, and crooked teeth, all have direct links to tongue-tie. The tongue's ability to function is directly related to how healthy our mouth stays. It's kind of like a little broom sweeping up all the leftover debris. If the tongue is tethered down, it can't clean things up. Spend a few years living with a dirty mouth and all kinds of problems are bound to arise!
These are just a few examples of deeper problems caused by tethered oral tissues. With so many structures vital to our health and wellness concentrated in the same area, one imbalance can lead to many. Myofunctional therapy specializes in spotting these facial and dental issues and providing safe, effective treatment plans back to perfect balance.
Today's Treatment Selection
Research reveals that stretching-specific exercises are very valuable for anyone having their tethered tissues released. These exercises help to prepare the tissues before the release, and can prove extremely effect post-release in ensuring that the tissue does not reattach. Your myofunctional therapist will assist in showing you the correct exercises needed for each frenum released.
Tools Used
When considering having your frenum released, it's quite common to wonder how exactly this is accomplished. In years past, the only tools available for the procedure were scissors and cautery. However, modern technology affords increased precision and decreased healing times through use of lasers. Several studies have shown that lasers are the preferred tool, since they will not leave behind much scar tissue. While there are several different types of lasers available, the experience and education of the profession regarding tethered oral tissues is easily the most important factor determining the successful outcome of the release.
Preventing Complications with Myofunctional Therapy
When a powerful influencer like the tongue experiences problems, the entire body suffers. Even a slight imbalance can build over time to affect all areas of life. Nobody wants to live with pain or discomfort, especially when it's easily treatable.
Myofunctional therapy is a wonderfully effective way to prevent and treat oral tissue tethering problems, namely tongue-tie. The methods we use include exercise programs, patient awareness practices, and neuromuscular re-education, all of which train the physiology to restore balance to the structures in our face.
Myofunctional therapy is safe for adults and children alike. It's completely non-invasive, too, so you don't have to worry about expensive surgeries or medications with huge lists of side effects.
More than Just Tongues
We spent a lot of time talking about tongue-tie, mainly because of the tongue's importance to our overall health. It's not the only tissue that can suffer from tethering problems, however. Lip-tie is a condition where the upper or lower lips are restricted in a similar way, for example. And there are even buccal ties that affect the cheeks!
Tethered oral tissues can be difficult to spot in infants, but it is critical to do so. As the child ages, the symptoms can get progressively more challenging to treat. If you think your child, yourself, or someone in your family could be suffering from a tongue-tie or other tethered oral tissue-related condition, give us a call and set up an appointment. Remember: an ounce of prevention is worth a pound of cure!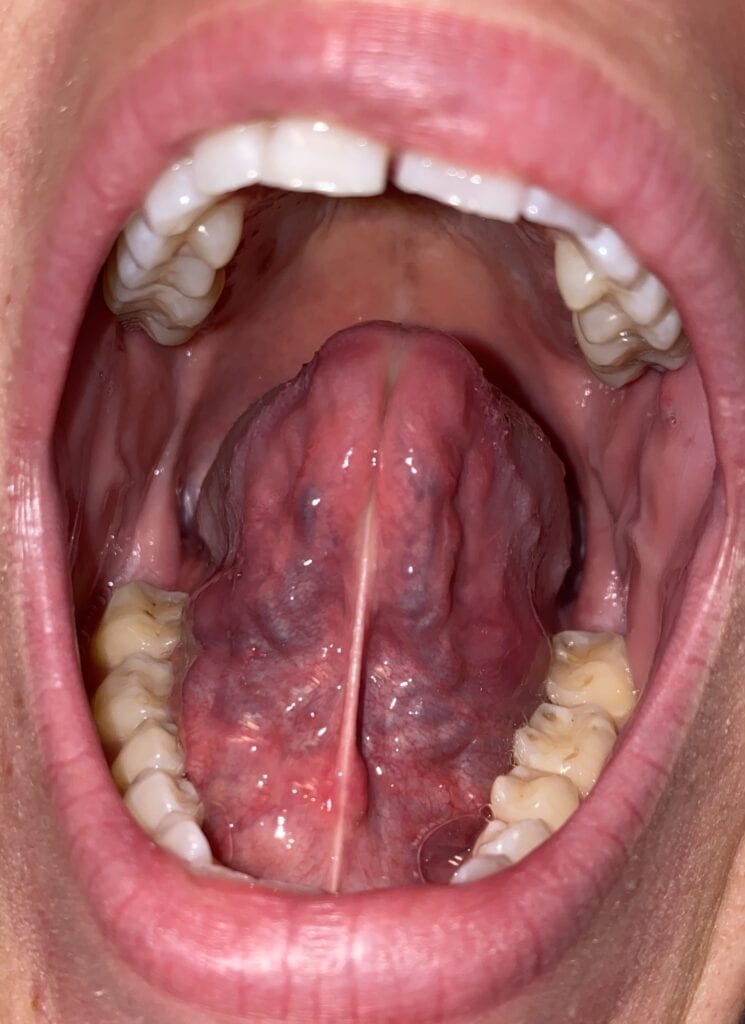 Intrigued about the deeper mysteries of the tongue and its role in health? Check out our book for more information: Please Release Me – The Tethered Oral Tissue Puzzle